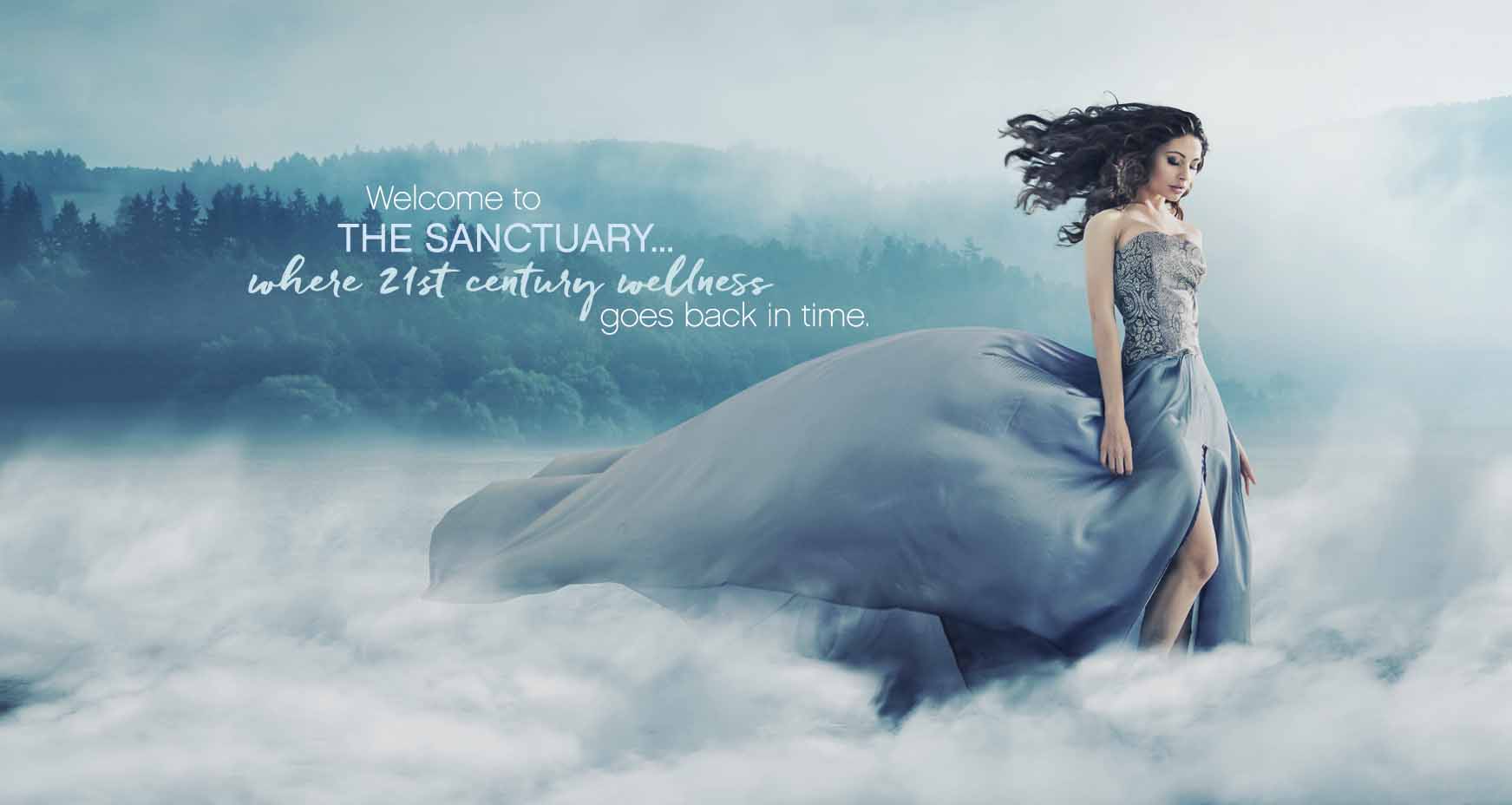 THE SANCTUARY WELLNESS TREATMENTS

It is the surge of innovative ideas made real, that ignite us.
Your desire to achieve a heightened sense of wellbeing – that fuels us. And the profound joy experienced by our connection, that makes this sanctuary even more extraordinary.
This chapter reveals a modern journey you have not experienced before, yet travels back in time to realize its power… Natural, simple and profound.
We invite you to embark on an adventure of inner vitality, that explores a bold synergy of body, mind and soul. Living well and being beautiful have never felt this good!
This is YOUR Story. This is La Bella Spa.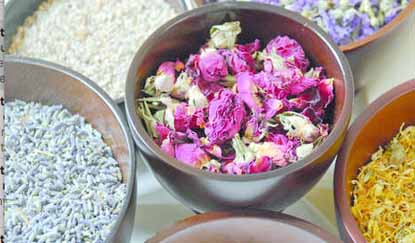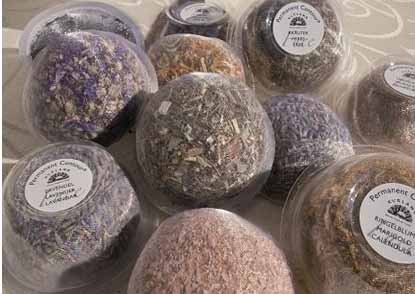 A La Bella Spa Exclusive! The study of herbs and flowers reveal a bounty of benefits that have cured disease throughout the ages. Monastic medicine born within the monasteries of centuries past, teaches that nature's ability to use herbs and flowers for a variety of conditions affecting respiratory, cardiovascular, endocrine, lymphatic and immune systems is not only effective, it is as nature intended. The Herbologie Collection at La Bella Spa features the highest quality herbs, flowers and organic salt within an herbal poultice that is gently steamed and infused into your skin offering wonderful therapeutic benefits for the body while rendering your skin anew. Combined with precious oils, your treatment is customized for your particular wellness goals.

First Tab
Incorporating the research of Dr. Jacobi, one of four different combinations of herbal remedies and treatment oil blends are selected to offer a therapeutic balancing treatment for your mind and body. Based on the four temperaments of Fire, Water, Air and Earth, The Four Elements Ritual encourages physio-logical rejuvenation and is the perfect anecdote to the impact of stress in our modern way of living.
$129
Second Tab
Inspired by the cleansing rituals within the Turkish hamam, relax atop a cedar plank while olive soap is generated and applied to your body. A building foam helps to neutralize acid deposits within the tissue- reducing inflammation. Wonderfully fragrant and pampering, your skin is rendered buttery soft as your cares melt away.
$99
Third Tab
Lavender, Rose Petals, Alpine Herbs and more are featured as a purely natural beauty therapy that provides an awakening to your skin! Conditions such as dehydration, sensitivity and fatigue benefit from the regenerating properties of natural and rare plant serums. Supremely relaxing and a perfect choice for monthly skin care!
$159
Fourth Tab
Indulge in this unique "four in one" therapy to rejuvenate from head to toe
with a combination of purifying mineral rich sea salt, anti-inflammatory and calming herbs, healing oils and warmly steamed poultices. Combined with your favorite massage techniques, this is the perfect total body tune-up in 60 minutes of pure bliss!
$129

HOLISTIC COCOON THERAPY

As you surrender to La Bella Spa's new Weightless Cocoon Therapy, naturopathic treatments and European balneotherapy. A La Bella Spa exclusive, these authentic spa experiences are designed to create a multi-faceted health intervention integrating sophisticated body treatments and innovative auditory therapy of special music and sound – clinically proven to relax the parasympathetic and autonomic nervous system. One session imparts the restoration of a full night's rest.
Weightless Cocoon Therapy Programs includes:
Weightless Cocoon Spa Treatment(s)
Salt & Light Chakra Balancing Chamber
Cedar Pine Sauna
Spa Relaxation Areas & Light Refreshments
Robe & Slippers during your stay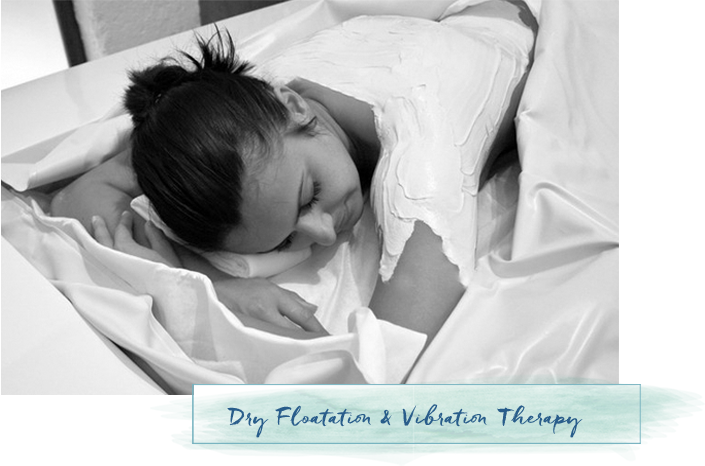 Age Defying Caviar Cure™ $179
Luxuriously effective, drench your skin with velvety soft textures of Shea butter, avocado oil and Pink Salmon Caviar stem cells-rich in amino acids, minerals, vitamins and fatty acids. Perfect for skin revitalization, repair and deep hydration.
Omega 3 Hydra Quench™ $179
A Buttery soft skin emulsion is applied, featuring a unique stem cell compound from egg yolk that helps repair dry skin conditions and irritations while highly concentrated amounts of Omega 3 & 6 essential fatty acids, Co Enzyme Q10, and vitamins A & E regenerate skin, improve micro-circulation and reduce inflammation.
Swiss Pine Stress Buster™ $179
Jo-hanneum Research has discovered what people of Switzerland instinctively knew hundreds of years ago: the power of swiss pine imparts an uplifting effect to your psyche while providing a calming effect to your body. In fact, the effects of Swiss Pine save your heart approximately 3,500 beats a day without any side effects! These extracts are combined with swiss pine curls and hydrating oil blends delivering a superb stress relieving treatment. Great for men too!
Black Gold Muscle Miracle™ $239
Imported from Salzburg, this extremely therapeutic highland moor mud offers active thermo physical properties that provide relief of inflammation, joint problems, muscle ache and rheumatic pain. Next, experience the power of balneotherapy as you benefit from a lymphatic drainage underwater massage during a hydrotherapy bath "cure".
Sea Cure $239
The powerful synergy of our Oceanic body cocoon combines with a restorative Spirulina hydrotherapy bath for instant detoxifying benefits! Naturally occurring minerals, trace elements and vitamins purify and remove excess fluid while also stimulating cell metabolism and firming skin tone. Ideal for those experiencing fatigue, symptoms of poor diet, excess alcohol and hypothyroid conditions.
Cleopatra's Milk Bath with Salt & Light Rejuvenation Chamber & Lounge Amenities $129
Featuring the soft and silky feeling of buttermilk from mountain goats rich in proteins, calcium, magnesium and vitamins. Includes lymphatic drainage massage to improve circulation and reduce bloating. Wonderfully received as a single treatment yet pairs perfectly with your favorite Massage.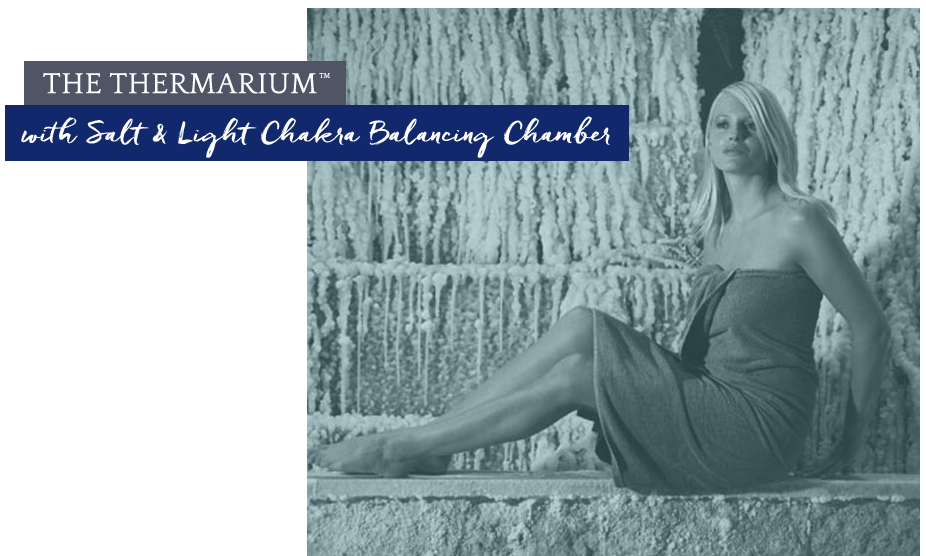 Discover the Earth's transformational healing essences, inspired by folkloric cleansing rituals of the far east. Experienced in the Thermarium – a Ceremonial Chamber of twinkling star lights, herb infused steam and concluding with a delicate tropical rain shower, you will love the hand made mosaics and heated thrones.
An experience for 2, each "hands on" interactive program offers both thermo-physical and remineralizing properties while promoting detoxification, rejuvenation and de-aging skin care, creating a healthy glow! Next, enjoy a meditative session within the Salt & Light Chakra Balancing Chamber where a brine salt waterfall offers respiratory and energizing benefits and a therapeutic color bath ignites your senses. This program may be experienced solo or enjoyed with your special guest, as you choose from three unique experiences.
Thermarium Haven and Salt & Light Chakra Balancing Combo Just $139 Per Person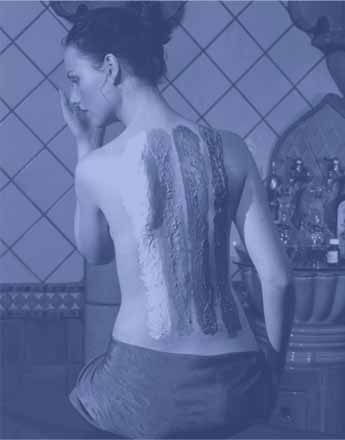 Thermarium Haven and Salt & Light Chakra Balancing Chamber Combo for 2
Club Mud™ $139 Per Person
Featuring an artistic palette of thermal muds harvested from the world's most fertile grounds, relax and unwind while you and your guest apply the multi colored mud interactively. Each mud differs in color, coarseness and function, achieving a multitude of benefits. Your skin will appear superbly toned, smooth and illuminated while the application of pristine oils complete your experience.
Rainforest Escape™ $139 Per Person
Escape to the Tropics, as improved circulation and cellular skin regeneration await! A combination of exotic tropical herbs, oils and a fruit enzyme based peeling treatment anoint your skin with nature's bounty! You will feel revitalized and uplifted while your body emerges supremely smooth and beautiful!
Warm Chalk Harmonizing Therapy™ $139 Per Person
From the Baltic Region, healing chalk is mined directly from a unique island mountain range. Its creamy application to your skin yields a detoxifying, anti-inflammatory and alkalizing effect, due to its high PH value that neutralizes acid deposits within the tissue. Naturally high in mineral content, studies have shown additional benefits of balancing hormones and instant revitalizing effects to the body.


The power of touch collides with the invigorating sensation of rain! Aqua Zen treatments not only awaken the senses with rainfall and healing hands, each signature body exfoliation and smoothing treatment delivers a bounty of antioxidants, minerals and botanical essences to nourish and restore lackluster skin. So amazing, you will want to experience them all!
Just $99 (includes spa lounge amenities)
Bed of Roses
A gesture of love. A moment of calm. A symbol of beauty. Experience the refreshing and uplifting power of organically grown roses combined with frangipani, exfoliating fruit powder and Argan oil to stimulate your senses and nourish your skin. Also ideal for sensitive skin.
Swiss Pine Body Polish
A warm and woody aroma offers a nurturing embrace as horse chestnut, enzymatic clay and swiss pine gently cleanse, exfoliate and invigorate your skin. The perfect prelude to your Swiss Pine Stress Buster Weightless
Cocoon.
Wine Ferment Body Peel
From Italy and France's choice vineyards, phenols and tannins found in red wine grape pomace dilate the arteries and stimulate circulation, while assertively exfoliating dead skin cells. Soft and rosy skin is revealed.
Spirulina Detox Peel
Pristine Sea extracts from the coast of Spain combine with finely ground Atlantic Sea Salt to smooth and refine the complexion. The high concentration of Iodine stimulates cell metabolism and circulation, thus providing the breakdown and removal of toxins. Your skin is delightfully moisturized.
Salt Brine Body Polish
Mineral rich salts from around the globe smooth and energize your skin with negatively charged ions and improved circulation. Combined with herbal oil blends, your skin will experience a new awakening.