Description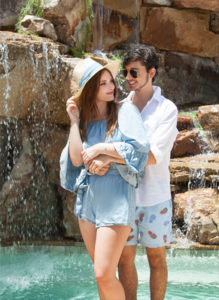 Ultimate Lover's Getaway – Rekindle the magic as you enter TRANQUILITY FALLS, La Bella's private hydrotherapy pool with rushing waters amidst 20 tons of Tennessee fieldstone. Here, you can unwind for a totally refreshingand exhilarating immersion with therapy jets to soothe tired muscles! Next, enter into our new sensory haven, the THERMARIUM. This exclusive thermal experience inspired by ancient cultures invites you into a new world of Italian mosaic walls, heated thrones and herbal steam under the blanket of an authentic Swarovski crystal sky. You and your partner will experience an interactive application of replenishing facial and body masques like harmonizing chalk therapy and restorative Fango mud.
A gentle tropical rain descends as the next part of your journey takes place within our exclusive Salt & Light Chakra Balancing Chamber experience. Featuring energy-charged salt air via stone waterfall, Halotherapy helps to purify the lungs, improve skin conditions, reduce fatigue and calm the nervous system, while a scientifically calibrated "color bath" fills the room with healing chakra therapy. And for a grand finale, enjoy your private Couple's HIDEAWAY Cabana Massage during a blissful 80 minutes of customized touch therapy to impart calm, instill serenity and ignite romance!
Please allow 3.5 hours.